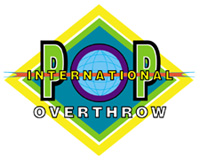 It's that's time of year again… Summer!  So, you know what that means? The kids are out of school, people are hitting the beaches, and
David Bash
has brought the
International Pop Overthrow
(IPO) festival back to Los Angeles for the 11th year in a row.
I've been attending the festival for quite a few years now, at least 6 or 7 in a row.  IPO usually runs for about two weeks.  Some years I've attended the majority of the shows, and other years just a few.  This year however, I've been busy, so I made my one and only IPO concert stop at Fitzgerald's in Huntington Beach on Saturday night.  The show was a CD release party for Phillip Vandermost, who turned in a great performance, as did O.C. favorites Scarlet Crush and Sparkle*Jets U.K. (who played a few new tunes at the show).
But for me, the best thing about the festival each year is the CD that goes along with it.  This year's IPO Volume 11 compilation from Not Lame Recordings, is 3 CD's, with tracks from artists that play the festival every year.  And even better, if you attend any of the shows (at least in L.A.), you'll get the CD for free.  The CD artwork, designed by Steve Stanley, is great as always, and it looks just a bit familiar.  Hmmmmm…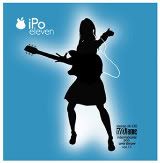 I haven't listened to all of the it yet, but I did load it on my iPod (my International Pop Overthrow Device, of course).  The highlights include new tracks by Roger Joseph Manning Jr., Preoccupied Pipers, and 64 others.
So, without further ado, here is the tracklist:
Disc 1:
1. Daisy – Go!
2. Ken Kase Group – Shiner
3. The Backroom – Lost Without You
4. Private Jets – Extraordinary Sensations
5. Roger Joseph Manning Jr. – American Affluenza
6. Mini – Hoping For An Astronaut
7. Laura Biagini – That Feeling Inside
8. The Transpersonals – Coming Through You
9. UHF – Disconnect
10. Maryz Eyez – Unpaid Holiday
11. Leave – Hope It Doesn't Come My Way
12. The Shamus Twins – Did You Have To Change?
13. Leerone – To Fill The Void
14. Jeremy – Everyone Makes Mistakes
15. Buddy Love – My Little Red Book
16. The Doom Buggies – Gravity
17. The Smith Bros. – She's Under My Skin
18. 302 – Man Of The Year
19. Stephanie Erdel – Sunset And Grove
20. Plasticsoul – Throwaway
21. My Brother Woody – Getting Old Goes With Getting Fat
22. Blake Collins - It's Summer Time
Disc 2:
1. Twenty Cent Crush – Summer (You Know My Name)
2. Peter & The Penguins – There Goes Pete Best
3. Wiretree – Big Coat
4. The Ravines – Dark Clouds
5. The Dirty Royals – Josephine
6. We Should Be Dead – Forget Romance, Let's Dance!
7. The Respectables – Charged By The Minute
8. Butch Young – Dime Store Jesus
9. The Irises – Lo Fi Girl
10. Peter Baldarachi – You're Gonna Miss Me Someday
11. Preoccupied Pipers – Little Jimmy The Giant
12. Susan Hedges - Trouble With Trouble
13. Michael Ubaldini – Scandal
14. The Ringles – If God Were The Sun
15. Kai Reiner – Cold Summer
16. Phillip Vandermost – Since Mountains Have Risen
17. Preston and Fletcher – Don't Know What You've Got
18. Phamous Phaces – Back To Liverpool
19. The Vandalays – On We Go
20. The Romeros – Thru 2 You
21. Vilot – O.Y.U.
22. Steve Caraway – Gone, Gone, Gone
Disc 3:
1. The Tomorrows – Effortless Lee
2. Aaron David Gleason – Progress
3. The Afternoons – Don't Turn Back (Open Your Eyes)
4. Garfield's Birthday – Molly's Eyes
5. Service Group – I'm In Love
6. Kelly Fairchild – Don't Stop
7. All Right Tokyo – Jessica, Jessica
8. Blackout 101 – Let's Not Get Ahead Of Ourselves
9. The Generous Days – Smile
10. Chris Brown – Ordinary Day
11. Suite 100 – Perfect Disaster
12. The Vickers – Silence
13. Blake Jones and The Trike Shop – Sun Up
14. Bird Mancini – Holly
15. John McMullan – Adolf Green (Kiss My Apathy)
16. Fireking – A Sentimental Education
17. The Issue – All Or Nothing
18. Pleasure Trip – Without You
19. Kevin McGowan – Be Here Tonight
20. The Hotwalls – Embodied
21. Nine Times Blue – Reasons Why
22. Teenage Frames – Need Somewhere To Stick It
If you can't make it to any of the shows for the free CD, it is usually available online at
Not Lame
after the festival ends. 
West Coast Dates:
July 25 – August 9   Los Angeles (11th annual)
August 12 – 16   San Francisco (5th annual)
August 20 – 23   Portland (1st annual)
August 26 – 30   Vancouver (3rd annual)
Filed under: Popular Music Tagged: | David Bash, International Pop Overthrow, IPO, Not Lame, Phillip Vandermost, Preoccupied Pipers, Roger Joseph Manning Jr., Scarlet Crush, Sparkle*Jets U.K.